Waltham is a city that embraces tourism. Boasting a rich history and varied historic and cultural venues, Waltham is a place to spend the weekend or just visit for the day.
The Waltham Chamber of Commerce is an advocate for tourism in the city of Waltham and is working with the Waltham Tourism Council to promote tourism in the city.
Find Attractions, Food, and Lodging
Waltham's Tick-Tock Trolley is a seasonal trolley that runs when Moody Street is open. Visit the links below for more information!
Set against a backdrop of forest and farmland, the Waltham area is a colorful patchwork of cities, small towns, modern residential communities, 19th century neighborhoods, historical and industrial landmarks. The region includes some of the Boston area's most established communities, one of its earliest industrial centers, and the latest in high-tech industrial development. As the nation's seventh largest metropolitan area, Waltham is an economic, political, and cultural center for Massachusetts as well as New England.
The area consists of winding country roads and modern expressways that connect the Waltham West Suburban region to Greater Boston. Waltham, the main urban center, is nine miles west of Boston. It is a historical repository of America's industrial revolution, a vital community with a rich ethnic heritage, and one of the nation's highest concentrations of electronic and space technology industries. Weston, three miles to the west, is a quiet community of tree-lined streets and comfortable homes that began to attract wealthy Bostonians early in its history. Just north of Weston is Lincoln, a rural town that thrives in its natural setting and country charm.
Waltham's award winning Community Access Channel WCAC-TV has produced various promo and short features about Waltham. Here are a few:
A highlight of what Waltham, Massachusetts has to offer.
An Introduction to Waltham's Museums.
Sheepshearing Festival at Gore Place
And of course, We're Happy!
Fishing, Boating, Hiking And More!
The West Suburban area has many natural features that most believe are found only in other parts of the state or elsewhere in New England. The Charles River offers a great deal to the city of Waltham. Visitors can take a walk, ride a bike or roller-blade along the river-walk, take a boat tour, or fish. It has been said that the largest pike on record was caught in the Charles River in Waltham. The area holds beautiful ski areas and cross country trails for those that like it cold and golf areas for those that like it warm. Trails and paths are scattered throughout the region for recreation. To learn more about the area's wealth of recreational opportunities, visit the Waltham Tourism Website.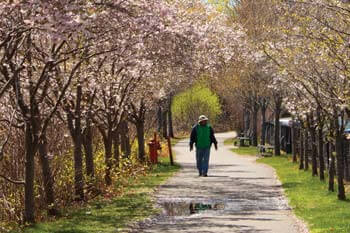 Licenses/Permits Fishing & Hunting
Licenses are required for anyone 15 or older to fish in any inland waters in Massachusetts.
Hunting also requires a license. Licenses are issued by city and town clerks or by the Mass Division of Fisheries and Wildlife
(617) 626.1591
Recreational Vehicles & Boats
All boats with motors and recreational vehicles, such as snowmobiles and trailbikes, must be registered with the Mass Division of Law Enforcement.
(617) 727.3200
Gun Permits
Firearm permits, including Firearms ID, licenses to carry and licenses to purchase, are issued by local police departments. For detailed information on firearms regulations, contact your local police department or the Mass Department of Public Safety.
(617) 727.3200
The Waltham area is served by the Massachusetts Bay Transportation Authority, one of the nation's most comprehensive mass transit systems. It lies between two major highways-Route 128/I-95, the inner loop, and Interstate 495, the outer loop, that encircles the region west of Boston. A number of east/west highways connect these and other western suburbs with Boston, its airport, and port facilities. Route 20, which crosses the state from east to west intersects with Route 128 in Waltham.
The region is also conveniently located close to the beaches of Cape Cod and Newport, Rhode Island. In just one hour you can be at the Sagamore Bridge, gateway to Cape Cod. For the mountain lover, the peaks of the Kangamangus Highway in New Hampshire are just a two-hour drive north. Jump on the Mass Pike west and within one hour, you can taste the many cultural splendors of the Berkshires.